Carol and her family are enjoying some R'n'R in Mexico, and they are relishing the delicious food on offer there. Here's an easy recipe to cook at home for a  Mexican style treat!
Baked Coconut Prawns
INGREDIENTS
24 large prawns peeled and deveined
1/2 cup plain flour
1/2 teaspoon paprika
salt and freshly ground black pepper
2 large eggs beaten
1 cup panko breadcrumbs
3/4 cup unsweetened shredded coconut
olive oil
Mayonnaise
1/4 of a lime
Few coriander leaves
INSTRUCTIONS
Pre-heat oven to 180C fan forced. Grease a baking pan and place a baking sheet on top.
Mix flour and spices in a bowl and place on your bench, then beat eggs in another bowl and finally combine breadcrumbs and coconut in a third bowl.
Dip prawns in small batches in the flour mixture then the egg mixture (shake off excess) and then coat in the coconut/breadcrumb mixture.
Place the prawns on the baking sheet in a single layer. Lightly spray with olive oil. Bake for around 10 minutes until they are golden on the outside and opaque in the centre.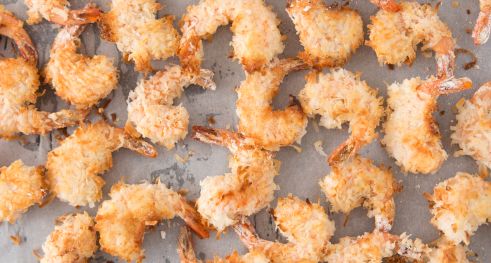 Serve with mayonnaise which has a squeeze of lime and garnished with coriander.